The party started last night.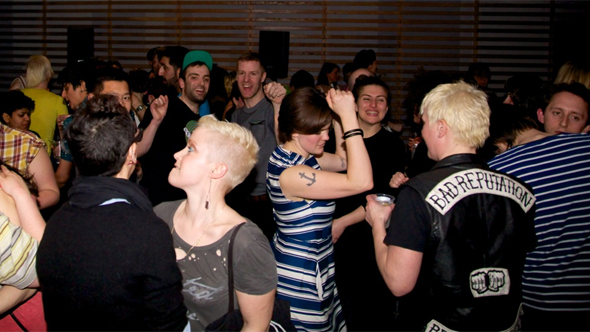 Here are ten things you should try and see before it's over (the Sunday after next)…
Valencia: The Movie/s (Various, 2013) – FRI 21 20:20, SAT 22 11:30, SUN 23 18:30
A collaborative queer punk 'exquisite corpse' adaptation of Michele Tea's 2000 cult autobiographical novel.
Will You Dance With Me?: Recording Tests For Ron Peck's Empire (Derek Jarman, 2014) – SAT 22 18:40
Unedited and previously unseen dance footage shot by Jarman in September 1984 at Mile End gay club Benjy's.
Queer Bollywood – FRI 28 + SAT 29
One talk, two screenings and a club night celebrating the history of popular Hindi cinema from a queer perspective.
Age of Consent (Charles Lum and Todd Verow, 2013) – TUE 25 20:40, WED 26 13:00, SAT 29 16:40
Festival favourites Lum and Verow deliver a documentary about London's only leather bar, The Hoist. Buckle up.
Caged Lesbians – SAT 22
One talk, one screening (John Cromwell's 1949 women-in-prison classic, Caged) and "a night of musical mischief, intimate interrogations and sexy cell block encounters" exploring lesbians behind bars.
I Always Said Yes: The Many Lives of Wakefield Poole (Jim Tushinski, 2013) – SAT 22 14:15, SUN 23 16:10
A fascinating and much necessary portrait of gay porn auteur/renaissance man Wakefield Poole.
Scream Queens: Gay Boys and the Horror Film – FRI 21, MON 24, WED 26 + FRI 28
Four bloodcurdling screenings and an illustrated history of horror through a queer lens from festival programmer Michael Blyth.
Big Joy: The Adventures of James Broughton (Stephen Silha, 2013) – THU 27 18:10, SAT 29 13:00, SUN 30 14:10
Another much necessary portrait of another perceptive visionary; poet/filmmaker/radical, James Broughton.
Kate Bornstein Is a Queer & Pleasant Danger (Sam Feder, 2013) – FRI 21 18:30, SAT 22 18:10, SUN 23 16:00
"Kate Bornstein is an author, playwright, performance artist, gender theorist, recovering Scientologist and pioneering gender outlaw."
Killjoy's Kastle: Allyson Mitchell's Lesbian Feminist Haunted House – ALL HOURS
Re-animating a large-scale installation Mitchell staged in Toronto in October 2013, Killjoy's Kastle multimedia frenzy presents "a nightmarish and glorious vision of feminist terror". Mitchell hosts a free talk about the project on Sat 22 March at 14:30.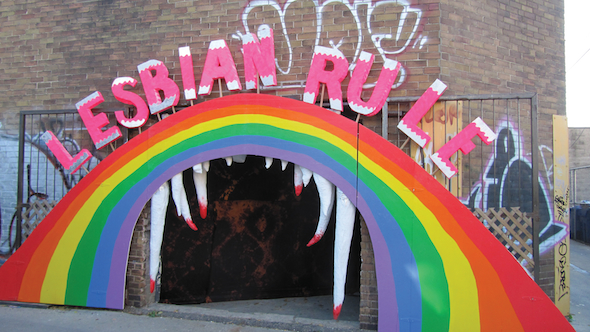 Posted by William Goodey